Musée Vivant du Cheval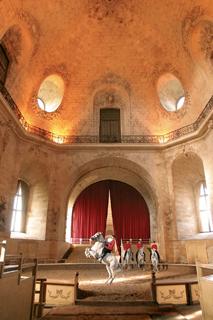 Formerly, Chantilly , princely city was renowned for hunting and the splendour of its gardens. The princes came to amuse themselves there. Today, the 'Museum of the Living Horse', associated with the 'Princes' Kitchen Garden', restores life to the Grand Stables and the Pheasant Park, common to old princes. At the museum the richness of the collections and the beauty of architecture will reawaken a taste for beauty; the educational presentations recall the tradition of French horsemanship, giving one the desire to discover the horse, while the magic of the spectacles transports others to a land of make-believe.
Recognized as the most beautiful horse museum in the world and for its international notoriety, we will be featuring this year, every weekend in July and August, presentations in English. The "little ones" are really the princes of the museum and, in honour of the children, ponies will invade the arena for a special spectacle on Saturdays during April, May, June and September.
Add this place to your selection