Prieuré Saint-Michel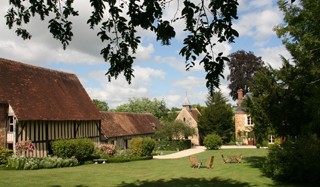 Le Prieuré Saint-Michel provides its historical outstanding setting and its leafy surroundings to organise your stay or your receptions.
You will find the priory Saint-Michel nesling in the Normandie-Orne region, bordering the department of Calvados and located in the heart of the beautiful peaceful valleys of the Pays d'Auge. Its near Camembert, Lisieux, Deauville and only 2h 1/2 from le Mont Saint-Michel.

Situated on a hill side, the priory is one of the rare Benedictine sites which survives from the Middle Ages. It has kept its main buildings : the magnificient 13th century tithe barn with its soaring timbered roof, the charming intimate chapel with its barrel vaulted ceiling and one of the largest timbered cider presses built during the 15th century.

Buildings have been restored in order to re-create the peace and tranquility of the ancient priory and its gardens.
Add this place to your selection