Abbatiale de Saint Philbert de Grand Lieu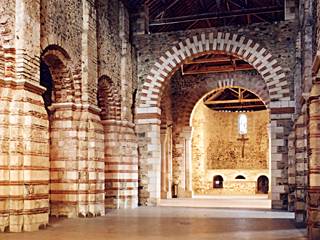 Being a precursor of the famous norman churches of pilgrimage, this building in combining the stone and the brick represents a transition style work between the roman art and the Romanesque art.
This church, classified as a place of historic interest was built at the beginning of the 9th century from the norman invasions. Very soon the miraculous recoveries that took place around hte merovingian sarcophagus made the site become a place of pilgrimage on the way to Saint Jacques de Compostelle.
Located in the heart of the anciant abbey, the garden of the cloister is restful and pleasant all the year round.
Museum of more than 225 species of resting or migrating birds.
Add this place to your selection