Abbaye de bonport - Delimbeuf Catherine
| | |
| --- | --- |
| | |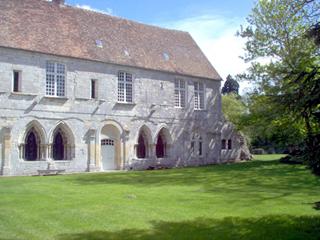 A Daughter of Cîteaux Born Out of a Royal Fright.
Legend has it that Richard the Lionhearted, believing that he would drown in the Seine, swore that he would found a monastery here, if only Heaven would bring him back safely to shore.
The monastery was founded in 1189. Thus at Bonport, a great and rich abbey, in terms of both worldly goods and spiritual values, was created by monks of the Cistercian order in order to fulfil the royal vow.
Let us see... A portion of a wall with an embedded niche, the armarium, where the monks kept the books that accompanied them as they piously walked around the cloisters. However, neither the cloisters nor the church remain today. Sold off in 1791, the abbey became the property of the Sieur de La Folie, whose name would have been cause for a smile if he had not been associated with the demolition of the site.

In contrast, the magnificently preserved conventual buildings offer a rare occasion to enter into the everyday life of a Cistercian monastery in medieval Normandy: from room to room, from refectory to dormitory. Diagonal rib vaults and curved leaves sculpted in the capitals... Bonport, where the stones respire the memory of the monks.
Add this place to your selection