Abbaye de La Lucerne d'Outremer
| | |
| --- | --- |
| | |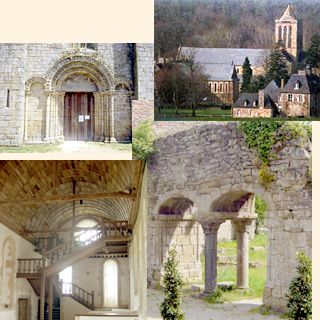 Normandy's First Norbertine Abbey and Surely Not the Last to Be Rebuilt.
Did you know that in a Norbertine abbey there is a door at each of the four cardinal points? In this manner, wherever a guest comes from, he will be welcome. Founded in 1143, the order's first monastery in Normandy was no exception to this rule. The west door invites you to cross its threshold. Don't be offended that it was once reserved for paupers who came here for bread. Before God, there are no rich and no poor. We are all just humans. First built in the 12th century, the abbey was later rebuilt in the 15th century after the attacks of the Hundred Years' War, again in the 17th and 18th centuries after the Wars of Religion and finally in the 20th century after the post-revolutionary tribulations. Today, you will see the church and its triumphant Romanesque portal, its Gothic windows and its sturdy Anglo-Norman tower. Not far away, the abbot's lodge, a jewel of Classicism, is reflected in the water... La Lucerne brings together all of these eras, with granite providing the harmony.

The abbey has a protector guided by faith and perseverance: Abbot Lelégard. He fell in love with the ruins in 1954 and decided to return the abbey to its architectural beauty and to religious life... To its original greatness.
Add this place to your selection