Abbaye Notre-Dame
| | |
| --- | --- |
| | |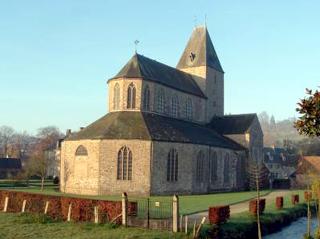 A Beautiful Lady From Which Anglo-Norman Christianity Shined.
Heir to an illustrious family, Guillaume Talvas de Bellême reinforced his prestige and prepared for his salvation by founding an abbey. In 1017, he offered some fine tracts of land to the Benedictine monks.
A thousand years passed. The abbey lost its cloisters and the Romanesque nave of its church. But the Gothic chancel and the transept arms remain, and mass is still said there.

What a church… A great lady of the past, though a little forgotten today in its corner of the forest. The famed writer and Inspector General of Historic Monuments, Mérimée, held it in disdain. Luckily, this injustice has since been corrected. The abbey church has the same grace as those noble dowagers who remember being radiant and crowned with pious sentiments.
Look at its presence, how its tower rises above the roofs of the town and deploys its lovely robe of granite and sandstone under the light of day. As you pass through the porch, you will be charmed by the 17th-century altarpieces, by the statues from the High Middle Ages and the columns marvellously carved from the imagination of Anglo-Norman Romanesque sculptors.
Add this place to your selection