Château de Chateaugay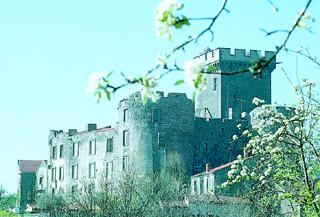 This fortified chateau which towers so majestically over its village, is the famous castle of Vigosche today called "Chateaugay". Its beautiful architecture is from the Middle Ages and the Renaissance period. The 14th century keeps which is completely intact has never been restored. From the top of its 162 steps you can see the "Chaîne des Puys" (moutain-range), the Limagne plains and Tournoël.
The chateau has nevertheless witnessed several sordid affairs : Pierre II de Giac poisoned his wife, the mistress of Jean Sans Peur, in 1426.
For lighter memories of the place, we have only to think of the Chateaugay wine which Henri IV, it is said, held in high esteem. In the Gaycoeur wine-cellar on the ground-floor of the keep, this "Auvergne nectar" can be purchassed and sampled.
Add this place to your selection