Château de Nieul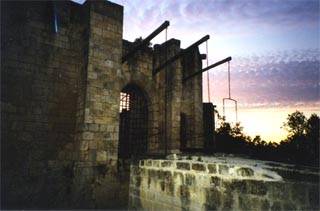 The castle was built around 1370 by Jehan Chaudrier, the mayor and liberator of La Rochelle, then under English dominion. This illustrious family will give birth to Pierre de Ronsard the famous poet in 1524.
The castle presents itself as an irregular hexagonal enceinte formed by 12 to 14 meters high walls pierced with loop-holes, crowned with a "chemin de ronde" and flanked with square towers. To the south, the ruines of a primitive keep can be seen closets the wall.
Two drawbridges span the moats which are now empty of water, one leading to the ogival gate, the other to the potern. The furnished divelling, underground chambers, turrets, a dungeon, an ice-pit, all add up to the medieval character of the place.
Add this place to your selection