Château de Villandry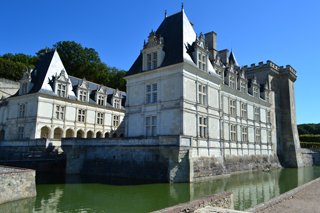 Villandry was completed toward 1536 and was the last of the large chateaux built on the banks of the Loire during the Renaissance. Villandry was built by Jean le Breton, one of François I's Finance Ministers, whose coat of arms can be seen on the gable of the left-hand dormer window.
In order to build the present chateau, Jean Le Breton had razed an old 12th century castle , from which he had only kept the old tower that can be seen behind the main courtyard.
On 4 July 1189, the "Paix de Colombiers" (Villandry's name during the Middle Ages) was signed in this castle. This event refers to the time when Henry II Plantagenet, the King of England, acknowledged his defeat before Philippe August, the King of France.

Villandry stayed in Jean le Breton's family until 1754 and then became the property of the Marquis de Castellane, the King's Ambassador who came from a very illustrious noble family from Provence. He built the Classical style outbuildings that you can see on either side of the front courtyard. He redesigned the interior of the chateau to meet the standards of comfort of the 18th century which are much closer to those we know today than to those, which were applied during the Renaissance.
The traditional gardens were destroyed in the 19th century to create an English-style park around the chateau (in the style of Monceau park in Paris).

In 1906 the chateau was bought by Dr Joachim Carvallo, who was born in Spain in 1869, and who is the great-grandfather of the present owners. He gave up a brilliant scientific career with Professor Charles Richet, the winner of the Nobel Prize in 1913, to devote himself entirely to Villandry. He thus saved the chateau which was just about to be demolished and created the presentday gardens which are in complete harmony with the Renaissance architecture of the château.
He was a pioneer in the opening of this kind of historic buildings to the public.
Add this place to your selection