Château Gaillard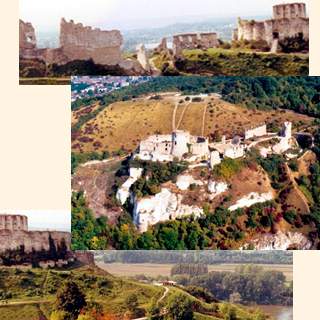 Risen from the mists of its glorious past, now silent beneath centuries of neglect, the chateau seems an ever proud giant, tirelessly contemplating eternity flowing away at its feet.
Built at the end of the 12th century on a limestone promontory overlooking the Seine, the majestic, imposing Chateau de la Roche was flatteringly renamed Chateau Gaillard in honor of the renamer himself, Richard the Lionhearted.

It took several thousand men merely one year to prepare the pit, lay the foundation, excavate the cellars, dig some 120 meters of wells and raise the awesome walls of flint, tuff and chalk.
Behind these walls, Blanche and Margueritre, adulterous daughters-in-law of Philippe le Bel, atoned for their sins : seven years of imprisonment for Blanche, who then entered and died in a convent ; a more tragic fate for Marguerite, whose "dear" husband King Louis X had her killed.

Ah, the dark, marvelous, surprising Middle Ages, where heartfelt generosity shared time and space with the most shameful barbarity !
The first of many assaults on the chateau's grand stones was at the hands of Philippe August, whose determined soldiers held it under a long winter siege from the autumn of 1203 to the spring 1204.
Forcing their way in under the main tower of the outer fortification, the wily assailants took over the farmyard.
Throughout the entire Hundred Years War, the chateau suffered a chaotic series of attacks and conquests.

Tired, old, useless after the Normandy dukedom was no more, artillery's arrival sounded its death knell.
To oust the occupiers, Henry IV and Louis XIII ordered the chateau dismantled.
Though the imposing dungeon was spared for a while, it eventually succumbed to Richelieu's destructive fury, cut down by a good third of its height. The chateau's stones, silent witness to the agony, melted into the anonymity of restored abbeys, newly built houses, decorated garden-grills.

Today, the violence and battles are a thing of the past—the emotion, the beauty, the majesty of the sight shine through. Come discover the Chateau Gaillard ! Bring your childhood dreams and innocence, bring your passion, and your zest for life—for a rich and beautiful story awaits you.
Add this place to your selection