Château Royal de Collioure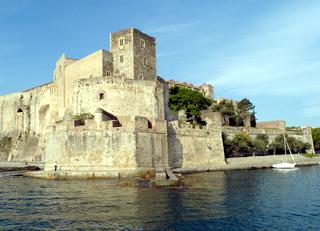 500 years B.C. : Greek navigators used to frequent the trading post in Collioure, which became the Port of Elne, the seat of the Bishop from the 6th century onwards.
The name Collioure comes from "Cauco-illibéris", the conch, the cove of Illibéris, and the old name for Elne.
From the 13th century wine, cloth, oil, honey, wax, soap, tuna and sardines were exported from Collioure. It also had naval workshops. It was a place of exchange and passage, visited by consuls and interpreters from different countries. The merchants had to pay taxes to use the port, which was a source of wealth for the town.
It was this maritime and commercial function which gave Collioure it importance, making it the principal port in the Roussillon, and attracting the attention of successive powers.
Add this place to your selection