Eglise de Nouans-les-Fontaines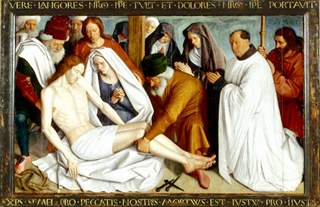 The church contains an invaluable treasure, a painting unique in France : "La Pieta". This religious masterpiece of Jean Fouquet, with whom we owe without doubt theprotrait of Charles VII exhibited in the Louvre, had been bequeathed by the archbishop of Tours to "La Dame de Nouans-des-Fontaines", wife of Guy de la Rochefoucauld.
A pause of artistic sensuality along the Route of the Ladies.
Add this place to your selection