Hôtel Brighton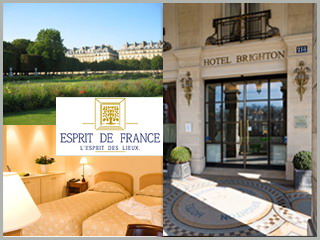 Hotel Brighton is one of the most romantic hotels in the heart of Paris, located on the Rue de Rivoli, facing the Tuileries Garden, one step from the Louvre Museum.
Built in the middle of the 19th century, Hotel Brighton owes its name to the Entente Cordiale between Britain and France, or warm friendship that linked France and England at the beginning of the reign of Queen Victoria. Combining charm of the past and modern comfort, it exerts a real attraction with its breath-taking view of the Tuileries Gardens and the most beautiful monuments in Paris.

Every room and ensuite bathroom is individually decorated in a very trendy and warm atmosphere.
The hotel offers 10 spacious junior suites with balconies with fabulous views.
The view on the famous arches of the Rue de Rivoli, will give you the opportunity to observe the elegant Parisiens going about their daily activities.
Breakfast can be taken in the spacious and luxury breakfast hall with marble columns and large mirror decoration, taking you back in to the 19th century.
Add this place to your selection