Palais des Rois de Majorque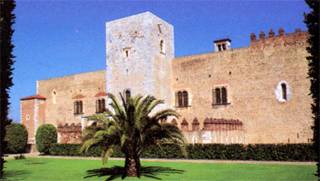 The Palace of the King's of Majorque is a Fortified Palace in the Gothic style. It is arranged around three courtyards (sides of about 60 meters). The first foremen on the site were Ramon Pau and especially Pons Descoyl, very active in Perpignan and the Balearics.
Here we have together in the "Great Hall", the seat of political power, the chapel and the royal residence. The position of the chapel in the heart the royal apartments, opposite the throne room, indicates the importance of the spiritual over the temporal. The plan of the palace was inspired by those of Majorque, and the chapel is like that of the earlier Sainte-Chapelle in Paris.
The walls, built with uncut stones and bricks bound with mortar, were coated with lime and painted.
Doors, corridors, stairs, armatures and the main towers are all made of cut stone : ochre stone from Les Fonts, Baixas Blue, Sandstone, Red Marble from Villefranche-de-Conflent, White and Blue Marble from Ceret.
Add this place to your selection