Prieuré Saint-Gabriel
| | |
| --- | --- |
| | |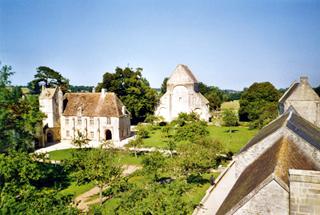 A Romanesque Chancel and... Three Glass Chapels.
The priory was founded in 1058 to serve the ambitions of the Count of Creully and to stretch the prestige of Fécamp Abbey all the way to Bayeux's doorstep... When night falls, the echo of croaking toads mixes with the reflections of the moon. During the day, students flock about ! Secondary school students from the Horticultural Centre develop their green thumbs by working the land once tended by monks.

The Benedictines left at the end of the Middle Ages to join their brothers on the other side of the Seine. However, the Archangel St. Gabriel has lost none of his soul, nor any of his timeless charm. Push open the great door : it welcomes you with all the elegance of the 13th century. You will enter into a courtyard where fruit trees grow, and at the far end you will see the Prior's Tower. Charmed by so much bucolic nobility, a shiver courses through you...

Built in the 15th century at the south-west end of the enclosure, the superb keep is particularly impressive. Now look east, in the direction of the Holy Land. Past the church, a Romanesque jewel of which only the chancel remains since 1749, and past the vaults of greenery, you will perceive three "chapels"... These modern greenhouses are nurseries for the gardeners and horticulturalists of tomorrow.
Add this place to your selection