Saline royale d'Arc-et-Senans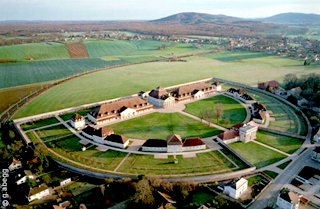 During the 18th century, the Saline Royale was an industrial complex of a unique architecture, symbolizing the monarch's power as well as the genius of the architect. Build in a semi-circle as per
Claude-Nicolas Ledoux 's plans, from 1775 tp 1779, it is one of the rare remains of missing industry, the exploitation of a absolutely essential commodity, rock salt. It is also an exceptional monument in the architecture history. The Claude-Nicolas Ledoux Institut has a tourist, cultural and scientific activity, and is a place of welcom, meetings, researche and information.
The Saline Royal is member of the UNESCO World heritage since 1963.
Add this place to your selection