Château de Cazeneuve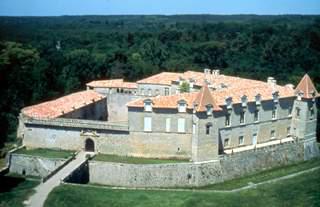 A royal site and favoured home of the Dukes of Albret, Navarre Kings, King Henry IV of France and Queen Margot. The castle is still inhabited by the Albret descendants - the Ducal family of Sabran-Pontevès.
Visiting the Chateau : the Royal Apartments with antique furniture, the Great Medieval Cellars where prestigious Bordeaux wines age, the Troglodyte Caves under the château, and special exhibitions.
Visiting the grounds : the beautiful chateau grounds include the famous Gorges du Ciron, medieval ruins, the Queen's walkways and caves, a man-made lake, the mill, the lavoir (wast-house), Bird island and a giant bamboo path.

"A dream trip through history from prehistoric times to the present".
Private theme functions, wine tasting and gourmet meals are all possible on request.
Add this place to your selection

Gift vouchers accepted
Compliments
Cheques Cadhoc
Stimula
Best - Everest
Kadéos
Tir Groupé
Starvoucher
CA DO Chèque Culture